Diversity, Equity, and Inclusion
"If you have come here to help me, you are wasting your time.
But if you have come because your liberation is bound up with mine,
then let's work together. "
Lila Watson, indigenous Australian artist and activist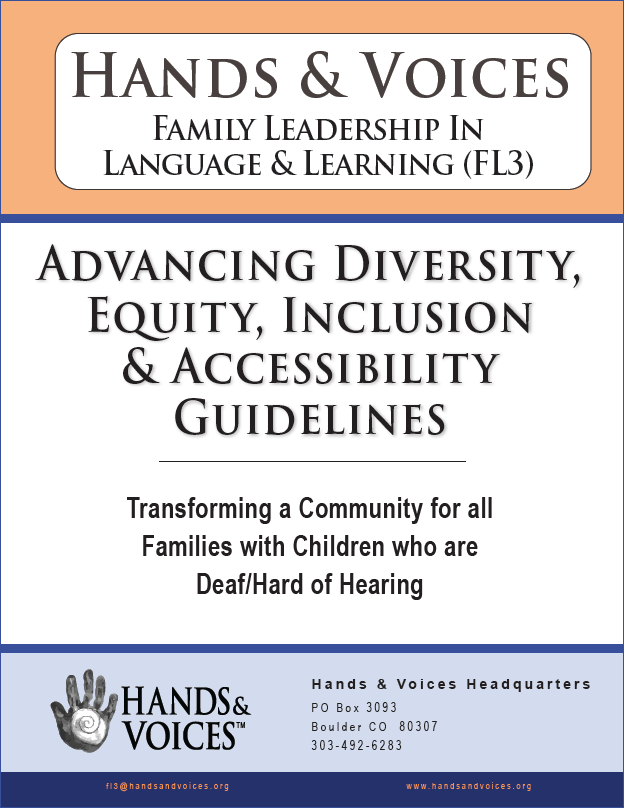 Advancing Diversity, Equity, Inclusion & Accessibility Guidelines
These guidelines provide background and examples of the value of diverse lived experiences and then culminates in an ever-evolving plan for H&V/FL3 to carry out its mission for the benefit of all children who are DHH and their families. Whether you represent a pro¬gram, community organization, or are a parent leader, the resources we have packaged will help you build a better understanding of the needs of underserved and underrepresented communities. By focusing on Diversity, Equity, Inclusion, and Accessibility we can do our part to transform our community for all families with children who are deaf or hard of hearing.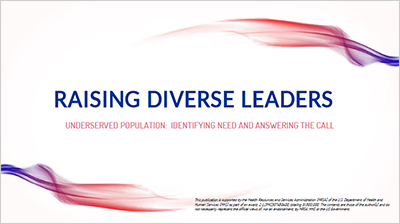 "Raising Diverse Leaders: Identifying need and answering the call in the underserved population." Learn about the definition of Underserved Population, the importance of outreach, and strategies to serve.
[ Download Presentation ]
Esther is waiting for us.  Let's do this!
In the words of Maya Angelou, "Do the best that you can until you know better. Then when you know better, do better."  We can 'know better'. We can 'learn better'. We 'can do better'. We at H&V are looking within ourselves and within the organization to do better in supporting Black lives Matter.  Karen Putz (H&V HQ D/HH Infusion) frequently reminds us to look at the why of what we do.  Esther is part of our why.
Esther is a 9 year old girl who loves gymnastics and raising chickens! Her favorite book is El Deafo and her favorite thing to say is "life is so complicated!" She loves ice cream, bike riding and spending time with her 4 siblings and can't wait to be an Aunt to two baby girls this month!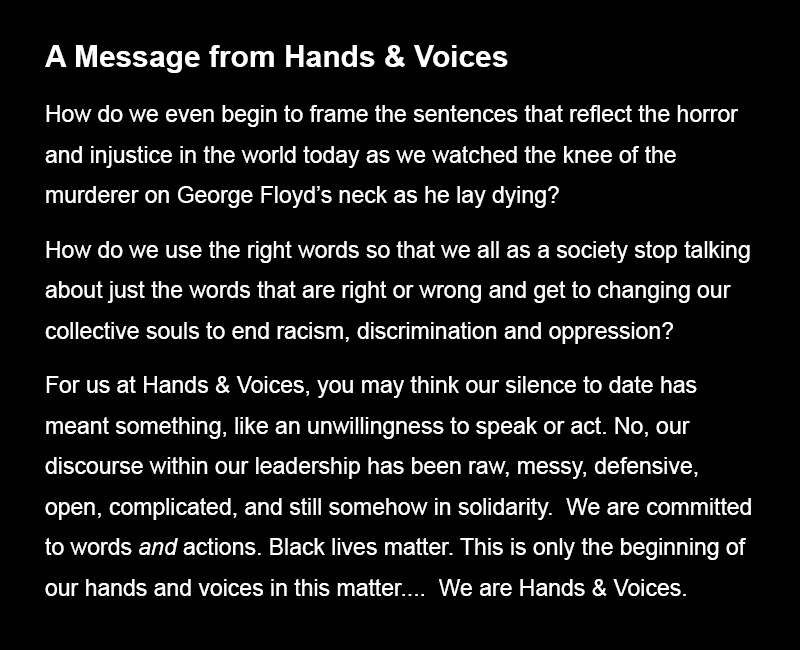 Update from Janet DesGeorges, Executive Director and Djenne-amal Morris, H&V Board President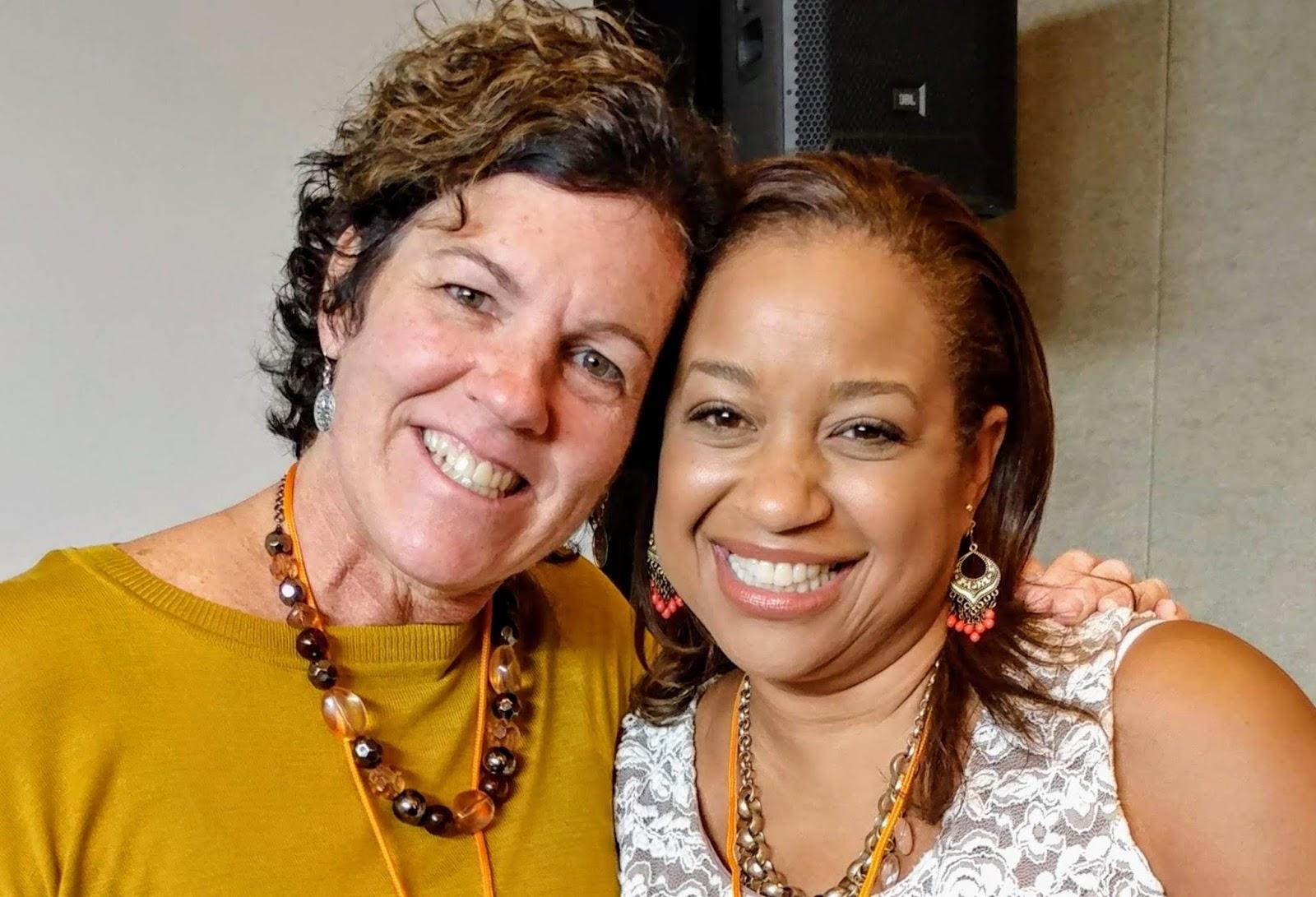 Over the past three months since H&V put out the message above, HQ board and staff has spent time soul searching and coming together focused on what can unite us as we move forward towards change. We are committed to continue learning and acting individually, making a plan for ourselves organizationally, and using our influence to improve systems.  Our chapters and families we serve, are the heart of who we are.  Djenne and I want to thank all of you who for your grace, honest feedback and suggestions. As part of a community, we have all been framing our own responses as individuals, chapters and organizations. Thank you for your work!
For our families and leaders of color, and in particular members of our Black community at this particular time, our desire is to understand more clearly the struggles you experience and learn from your resilience.  H&V will wholeheartedly and humbly raise our hands and voices in support and solidarity.
Hands & Voices Headquarters moves into our next steps, we are framing a plan, and this website is a part of our first steps. You can see our 'first words' above, and we invite you to take a look at the information and resources on this page.
Family Voices United to End Racism Against CYSHCN and their Families (FamU) launched a toolkit website designed to support the important work of dismantling racism in health care. The website offers concrete tools designed to support organizations and indi viduals to become more culturally competent and responsive by building meaningful, equitable engagement with Black children and youth with special health care needs (CYSHCN) and their families.
Check out this great resource from our partners at Family Voices!
https://familyvoices.org/famu/
On March 16, 2021, a series of mass shootings occurred at three spas or massage parlors in the metropolitan area of Atlanta, Georgia. Eight people were killed, six of whom were Asian American women, and one other person was wounded.  The Hands & Voices community is grieving the loss of life and acts of injustice.
We recognize that across the nation there has been a rise in incidents against Asian and Pacific Islander Americans (APIA) since the Pandemic hit the United States. As a community, Hands & Voices acknowledges the lasting effects and traumatic impact that this may have on families that are connected to our organization. Our hearts are with the victims in Atlanta, the events this past year, and beyond, as well as their families, friends, and community they touch.
Below are some resources for parents, caregivers, and professionals to better understand our Asian and Pacific Islander Children and Families and the impact that COVID-19 has had on the APIA community.
PTA.ORG- Asian American Children and Families
MGH Institute of Health Professions- Let's Talk! Supporting Asian and Asian American Students through COVID-19
Society for Research in Child Development - Supporting Asian/Asian American Children and Youth during the COVID-19 Pandemic
We at Hands & Voices extend our care and compassion. We are grieving WITH you and we are here to support you.
Rosabel Agbayani, MPH, on behalf of Hands & Voices HQ
Consultant for Underserved Populations
Introducing Rosabel Agbayani, MPH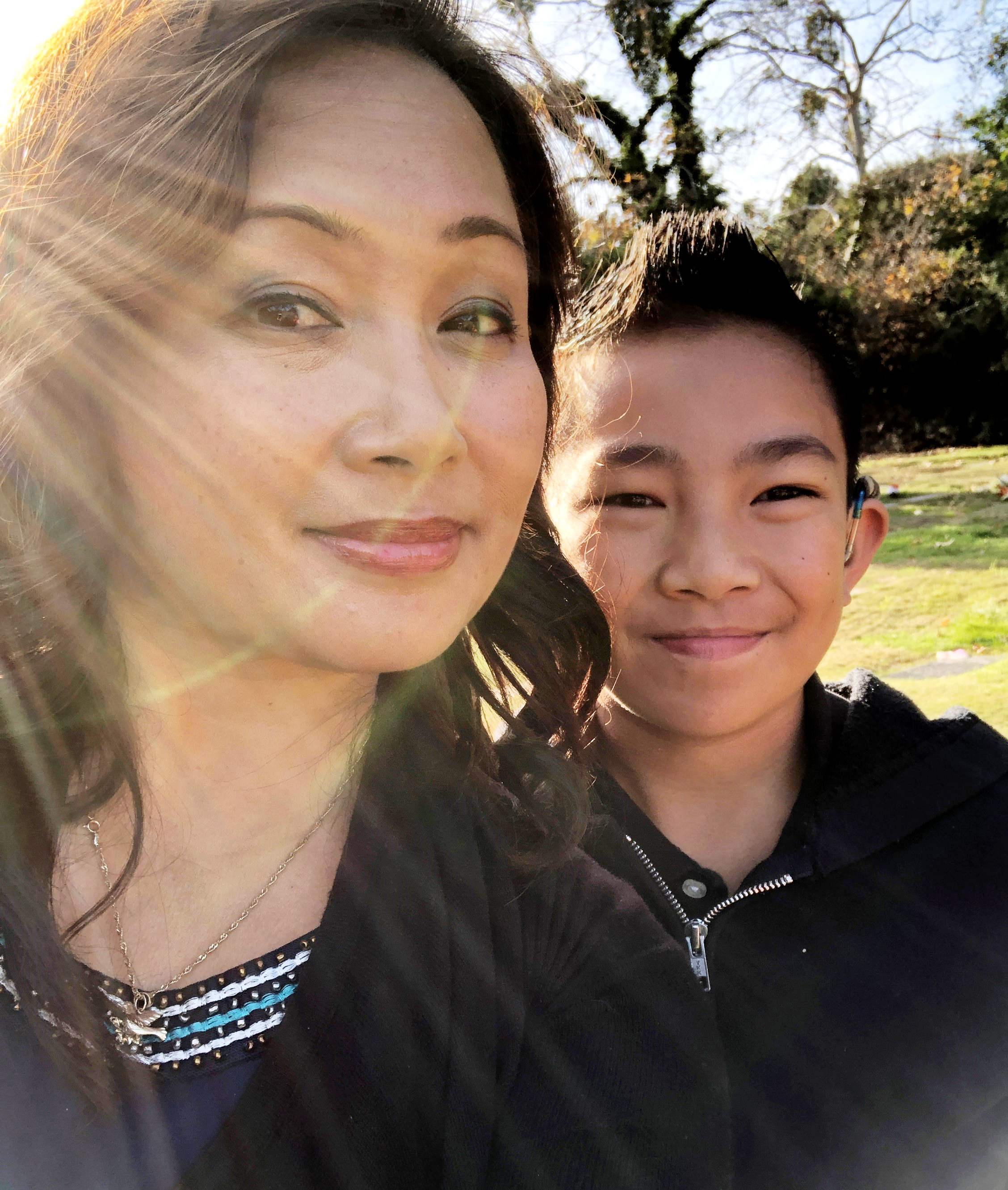 Hands & Voices Consultant to support Diversity and Inclusion Innovations
Rosabel Agbayani (a child of Retired Navy Chief) lives in San Diego, California with her husband Mike and three children. Her son was identified as deaf at the age of 3. Rosabel has a Bachelor's of Arts in Human Development from California State University San Marcos, Bachelor of Science in Communicative Disorders and Deaf Education from Utah State University, and a Masters in Public Health Specializing in Health Promotion from National University. She is a Clinical Research Coordinator at Rady Children's Hospital, Chairperson of the Poway Unified School District Special Education Community Advisory Committee, and President of the Board of Directors for California Hands & Voices.
As the Consultant to support Underserved Populations, Rosabel will assist Hands & Voices with an increased focus on diversity with specific support in the FL3's delivery of technical assistance, training, and education.
Click Link to September 21, 2020 Press Release
I am humbled by this opportunity to serve Hands & Voices as the Consultant for Underserved Populations.  I am so excited to have this opportunity to blend my life's experience with my career in helping others.  As I have been preparing for the important work to be done, I've spent some time reflecting on why I am here and what I hope to accomplish in my role as the Consultant for Underserved populations. 
We are in a period of time right now where things are moving and paused at the same time.  This is forcing all of us to look at things from a different perspective.  We are all witnessing how institutions like healthcare and education have been severely impacted by COVID-19 and it has forced both systems to react to the circumstance and rebuild the way services are delivered.  Hands & Voices as an organization are also called to look at the families we serve and find opportunities for us to strengthen our capacity to support our chapters, give families meaningful resources, and seek out ways that we can show that we understand how difficult this time is for everyone especially our Deaf and Hard of Hearing Community. 
As a public health professional, I look at the community in terms of Health Equity.  Equity should not be confused with Equality.  Equality emphasizes everyone gets their equal share, however EQUITY breaks down those silos that divide ourselves within a community and makes sure that everyone gets what they need.  Fairness and Equity requires us to look closely at those social determinants of health and make a conscious effort to include those in underrepresented populations (e.g. rural, urban, race, ethnicity, disability, gender, sexual orientation, family structure, and socioeconomic status) that can influence a community's ability to access the necessary resources and support for successful and healthy human development.  Health equity is more than one intervention; it's a lens through which all of our work in human services should be viewed.
Over the next 4 years, Hands & Voices will be taking a closer look at our organization and in our leadership to focus on opportunities to infuse Equity, Diversity, and Inclusion in the work we already do. Hands & Voices has established the Gold Standard for supporting families with children who are Deaf and Hard of Hearing.  We want to expand our outreach and continue to support our local chapter leaders to find those opportunities to reach out to our Underrepresented Populations.  Everyone deserves an opportunity to find the gift of being connected to Hands & Voices.  Here at Hands & Voices we want every family of a Deaf or Hard of Hearing child, at all stages of their journey, in all walks of life, to know that they BELONG in our community and we are here to support, encourage, and empower them the best way we know how!
Contact Rosabel at Rosabel@handsandvoices.org
Where do we go from here?  Our Journey Together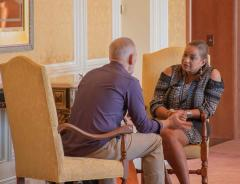 How do we change what we don't know about ourselves and change our current behaviors that we believe to be helpful?  The conversations and the work that we are doing is just the beginning. Please don't stop at "learning" and please start doing the work.  It's time.  We at H&V will be a brave space and safe community for each of us to do the work on bias and learn about privilege while expanding our understanding of ally, empowerment, institutional bias, microaggression and other terms that we may have wondered about.  From there the work and actions that need to be taken will emerge for individuals and Chapters. 
Cultural Humility and Lifelong Learning
"Practicing cultural humility requires less emphasis on knowledge and a greater focus on fostering self-awareness, interpersonal sensitivity, an attitude of openness, and learning from differences."
Cultural Humility as a Lifelong Practice Jul 1, 2013 |Community Outreach
https://outreach-partners.org/2013/07/01/cultural-humility-as-a-lifelong-practice/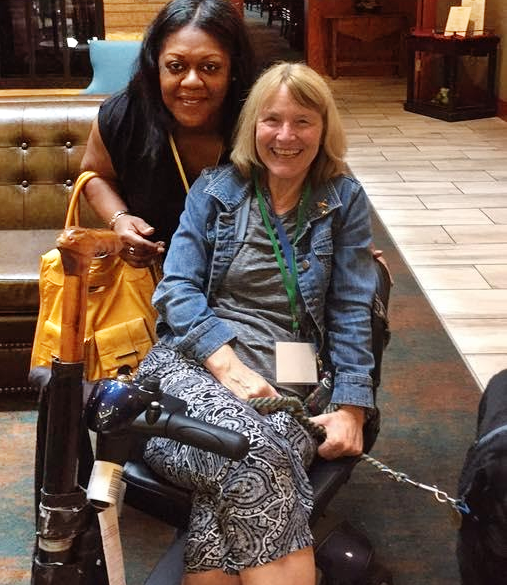 Courage to have "Hard" conversations
"I believe it's about having the 'hard' conversations.... being transparent without being offensive or getting offended. We all have different values and beliefs, and that is not a bad thing. What's helped me in my relationships with different ethnicities is not hiding who I am or where I come from and being open to them doing the same. Focusing on what brings us together, rather than what separates us, is what will ultimately change our world for the better."
- Deshonda Washington, Georgia H&V
Djenne and Michael Morris "The Oops and the Ouches"
Video of the Morris's presentation at the 2020 "Something Extraordinary Virtual Conference."
Getting started:
Resources are widely available online, however that can also be overwhelming. The suggested resources on this page are simply a place to explore and to begin understanding the impact that we have on one another. At times there may be comments or information that lead you to feel strongly or react in a new way.  Allow those comments to shape what you are learning.  If we get uncomfortable then we are learning and processing. Have curiosity. Be teachable. 
Terminology-what do some of the words around racism, diversity and inclusion mean and how do words impact people? The Seattle Times "Under Our Skin" video gives learners the opportunity to click on a variety of terms and hear multiple perspectives rather than the perspective of only one person.  Each video is several minutes long which allows viewers to go back and review throughout the process of refining one's awareness.
The Smithsonian National Museum of African American History and Culture has created a brave space to help answer the number one question people ask… how to talk about race. This site talks about race and why it matters, with sections to click on if you are an educator, parent/caregiver or a person committed to equity.  Sections include 'I Want to Know', Historical Foundations, Social Identities, Systems of Oppression.  "Being racist or antiracist is not about who you are; it's about what you do."
Now what? Do you have ten minutes, 25 minutes, 45 minutes a day?  Choose if/when you are ready to read, watch, or listen in order to become more informed. Then learn what to do and how to make a change. This article was written about two women and a document they created which gives links and resources to watch, read, listen and act, "These best friends created a wildly popular Google doc about how to be an ally to the black community". The link to this Justice in June Google Doc is in the article from the Washington Post. "Doing something consistently over time is how you change a behavior. It becomes a lifestyle over a one-off thing."
Learning and growing:
Looking through the lens and context of Race:  
"The Journey from racism to anti-racism must happen on many levels, (individual, institutional, community, and organizational). The easiest place to start is with personal action.  We are called on to act even when we are uncertain, afraid, not fully informed, and uncomfortable. Consider and reflect on this infographic that illustrates how anti-racism progresses from fear, to learning, to growth.  The key is taking personal action." A high-resolution PDF of the figure can be downloaded here.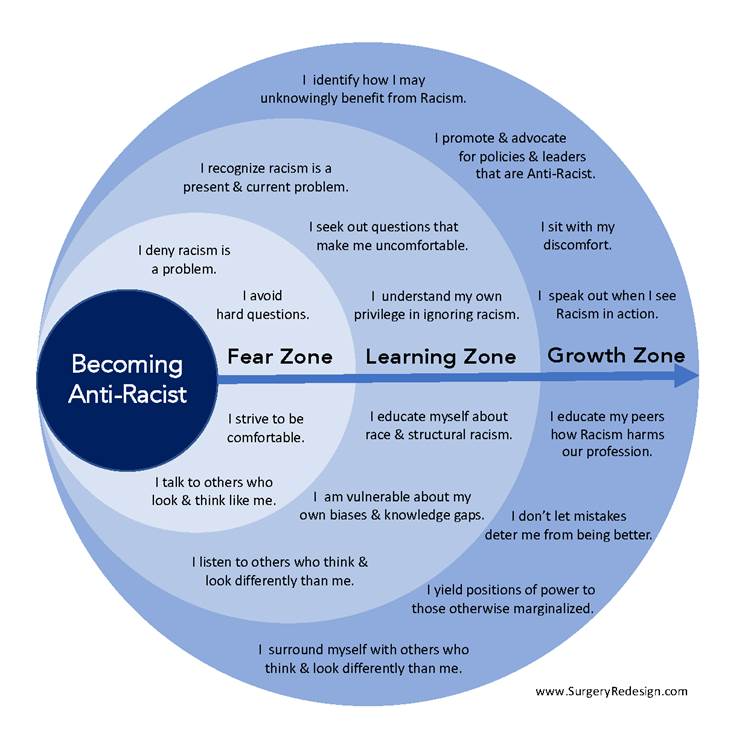 Cultural Humility :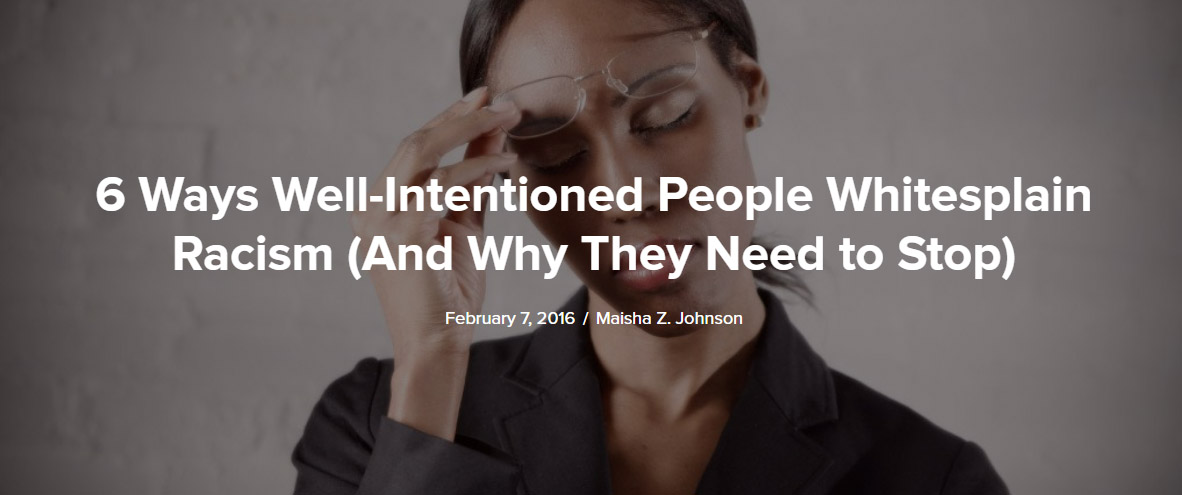 "There's one strategy that will help you figure it all out: Approach racial justice conversations with humility."
https://everydayfeminism.com/2016/02/how-people-whitesplain-racism/
Advocacy and Allyship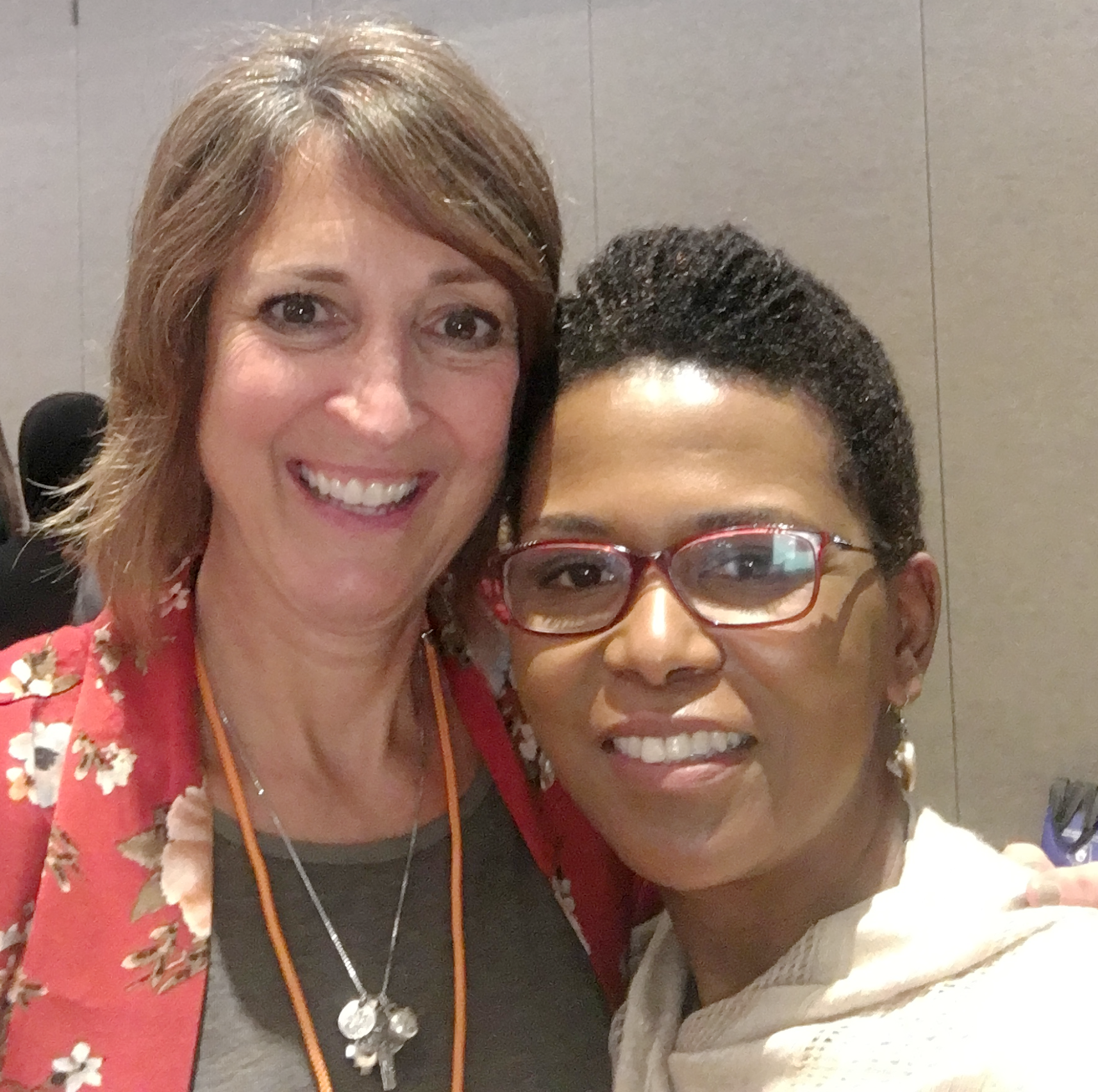 Una Allen Carroll of Arkansas H&V shares her perspective in becoming a better advocate:
"The death of George Floyd is overt racism. It is easy to be outraged. The real fight is covert racism, the racism that allows the overt racism to exist.
Families every day walk into clinicians' offices adjusting themselves to not be whatever preconceived stereotype may be in this person's mind. "Don't be the angry black mother. Don't be the ghetto black man." Never allowed to focus on their child but trying to not fail their child by simply existing incorrectly.
Families deal with uncomfortable jokes, and comments because this is the only clinician that takes my insurance/is within driving distance/has availability.
Families are not told about opportunities or their goals are discouraged because of their race. Never knowing what they are missing.
Hands & Voices needs to be prepared to respond when a family says "It's not what they said, it's how they said it."
Being angry about the one dead black man is one thing, but we need to be prepared to work for the 100 black families being disenfranchised every single day. We cannot call ourselves advocates if we can't do this."
Resources:
"When black people are in pain, white people just join book clubs" by Tre Johnson (10 minutes)
"Allyship (and Accomplice): The What Why and How" by Michelle Kim (8 minute read)
"103 Things White People Can Do for Racial Justice" by Corinne Shutack
MUHSEN: Muslims Helping and Supporting Special Education needs
Experiencing Different:
Biographies, Non-Fiction Novels, Personal Narratives
A few children's books to get you started:
What can YOU do?
We are working on providing resources for our Chapters boards...
stay tuned for a call to action!
We want to find ways to better support our diverse community.  If you have any suggestions, comments, resources that touch on outreach to our Underserved Populations (referring to race, ethnicity, disability, gender, sexual orientation, family structure, and socioeconomic status)  or would like to be involved please reach out to Diversity@handsandvoices.org