The Seaver Vision Award
And the award goes to... Ginger Mullen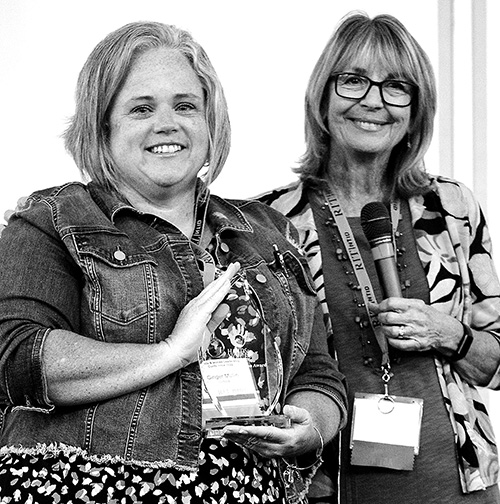 Ginger Mullin (left) receives her award from H&V Board member Cheryl Johnson
The 2022 Seaver Vision Award was presented to Ginger Mullen to a standing ovation at a recent ceremony held at the 2022 H&V Leadership Conference in Fairport, New York.
Andrea Marwah and Carrie Balian of Illinois H&V noted in their nomination letters for Ginger that: "Our state is fortunate to have Ginger Mullins as the EHDI Coordinator. We are lucky to have a person who has done so much for families and children who are deaf/hard of hearing. It is important to understand that Ginger's work is much more than a list of accomplishments. She truly embodies support for families in everything she does. Among other things she helped bring Guide By Your Side (GBYS) to Illinois. This wasn't done in a typical fashion, but it worked and if not for her contribution, we wouldn't be where we are today. Ginger worked tirelessly to include parent to parent support in the administration rules, and she initiated and was able to execute direct referral agreements between Illinois GBYS and the Illinois Department of Health. Ginger displays an exemplary ability to look through the lens with an unbiased eye. She is a champion of parent voice, consistently including parent voice is everything that she does, and she continues to focus on access to resources in a family's primary language. She truly embodies our mission and vision and without her our world would be a little less bright. Ginger knows that the morale of leadership is what gets things moving and makes them sustainable. She is all about sharing our challenges and successes in our lives and work (roses and thorns) and is always looking for ways to leverage opportunities to the betterment of all." Congratulations to Ginger Mullen!
---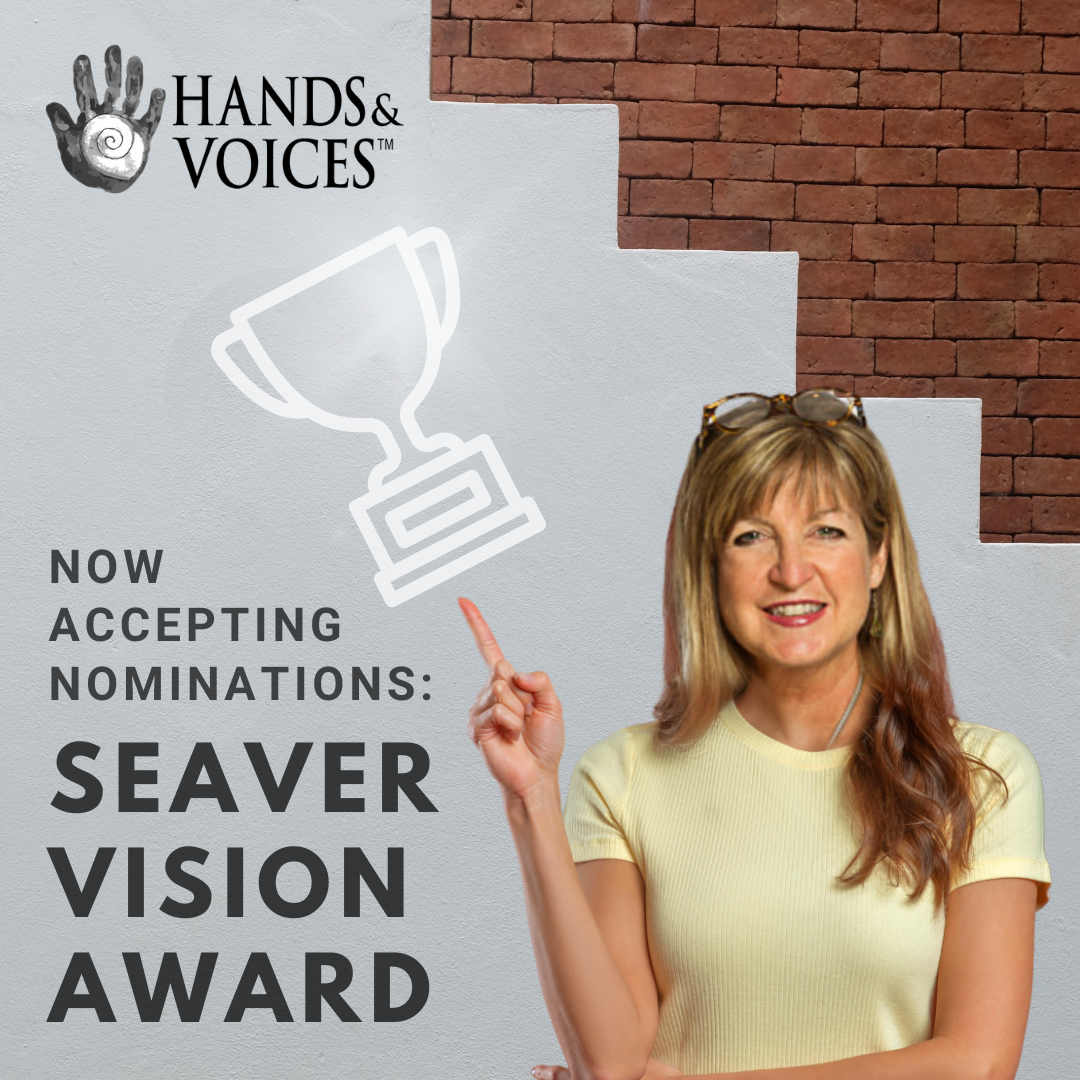 The Leeanne Seaver Vision Award was established in recognition of Leeanne's extraordinary commitment to families with children who are deaf and hard of hearing. Her visionary leadership and keen insight as a parent, co-founder and first executive director of Hands & Voices helped set the standard for unwavering advocacy, unbiased parent support, effective parent involvement, and parent/professional collaboration. Leeanne's leadership provided hope to families worldwide and exemplified H&V advocacy at the local, state, national and international levels. Her articulation of "what works for your child is what makes the choice right" captures the commitment of this organization to the child-led/family-centered process of discovering what it will take for each child to reach his or her potential.
The Seaver Vision Award was established in 2012 and is given annually to a parent, professional, organization, or agency that exemplifies the values and commitment to the Hands & Voices vision.
Previous winners include:
2013 - Harold Johnson, PhD
2014 - Dr. Susan Wiley of Ohio and Karen Wisinski, GBYS Coordinator for Michigan H&V
2015 - Susan Lane of British Columbia, Canada and Andrea Marwah of Illinois H&V
2016 - Cindy Roller of Nevada H&V and Christine Griffin of Washington H&V
2017 - Nancy Sager of California
2018 - Lisa Crawford of Texas H&V
2019 - Teresa Kazemir, British Columbia H&V
2021 - Sarah Roof, Kentucky H&V
Nominations
If you're interested in nominating a person, group or agency for The Seaver Vision Award, please tell us why he/she/it deserves this recognition. Share your story in 500 words or less, and be sure to include the following information:
The nominee's name and title (if applicable) and contact information including phone number and email address;
Your contact information including name, email, phone number, address, and your role/title;
A letter telling us why this nominee should win the Seaver Vision Award;
At least one letter of support—strong candidates will have the documented support of both parents and professionals in the field. (This letter should not exceed 300 words.)
The winner will have made significant contributions to family support for the field of deafness and hearing loss in the spirit of Hands & Voices mission
Eligible candidates include but are not limited to Hands & Voices members.
Award process
Nominations are accepted up to six weeks before the Hands & Voices Leadership Conference where the award is presented annually.