Fostering Joy: A Reflective Journal for Families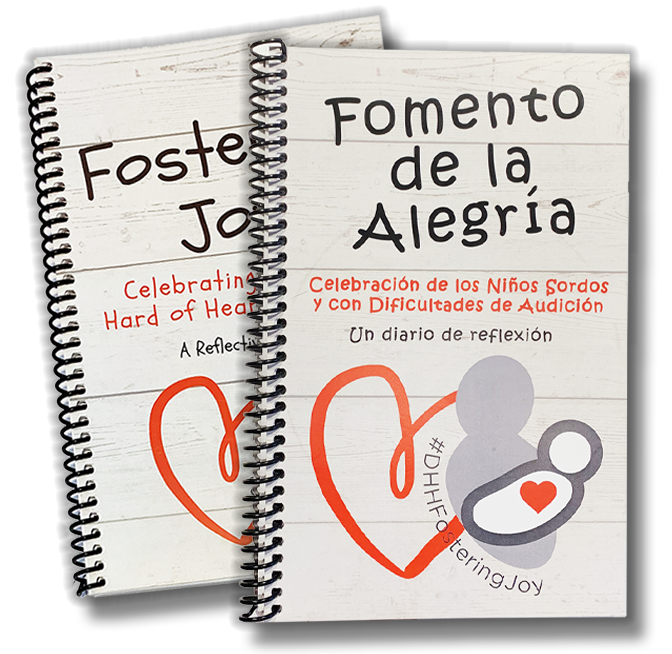 The Hands & Voices Fostering Joy Journal was created for parents/caregivers of children who are deaf and hard of hearing (DHH) to capture joyful moments on their parenting journey.  By responding to a series of prompts, families are encouraged to establish an intentional practice of creating space for bonding experiences between caregiver and child, having an impact on the child's social emotional development and well-being.  The act of expressing gratitude through frequent journaling has been known to rewire the brain to be more positive and in this case, aid families in focusing on the strengths and gifts of their child.  An additional feature of the journal are the whimsical drawings by a young artist who is DHH.   The Fostering Joy Journal makes a wonderful gift to the family of a child who is DHH, especially those recently identified. 
Here's what's been said about the Fostering Joy Journal:
"What a wonderful tool to foster joy! I would've loved to have gifted this to my parents when I was younger and be able to read now and remember how much joy I brought to their lives. This will be a book full of happy memories to treasure forever!"
- Heidy L. Nazario, DHH Adult
"What an amazing idea! My parents would have loved to jot down every moment of my joys while growing up. That would be a lovely gift for every parent with Deaf/Hard of Hearing child/ren. "
- Kelsey Woodward, Deaf Adult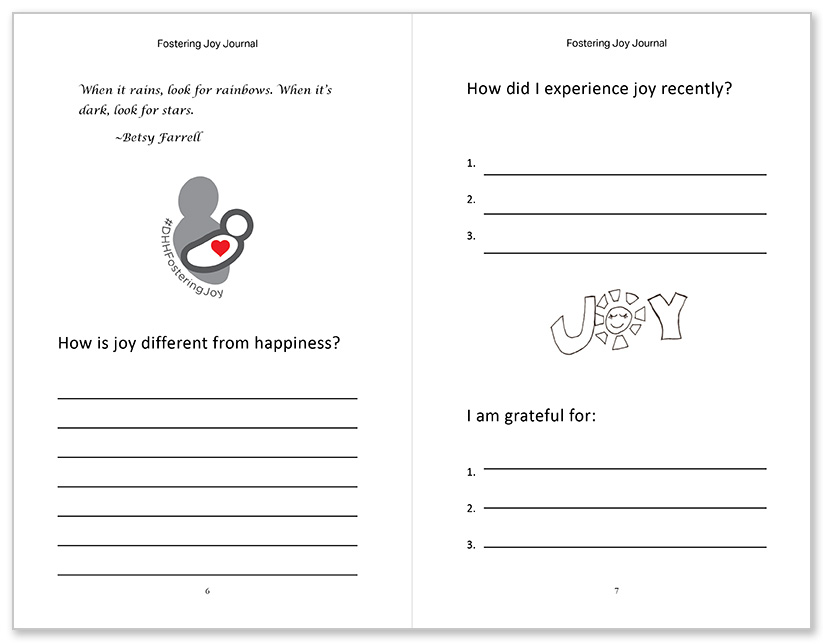 "Fostering development and noticing the achievements of young children comes easily to most parents and other family members. The Fostering the Joy journal gives families the opportunity to celebrate special moments when their children make them smile, make them proud, and bring them happiness. This journal is a precious gift to families with deaf and hard-of-hearing children helping them commemorate the wonder and beauty children who are deaf or hard of hearing bring to all of our lives."
- Marilyn Sass-Lehrer, Ph.D., Professor Emerita, Gallaudet University
"A great tool to remind us to look at life through the lens of JOY when it comes to raising a DHH child."
- Mariana Barquet, parent, Guide By Your Side Program Coordinator, Indiana Hands & Voices
Price - $14.95
    One-five copies $14.95/ea. includes shipping
    Six - 24 copies:  10% discount
    25 or more:  15% discount
Spanish Version Available Now