- Advocacy Corner -
The Parent/Student Input Form- An Advocacy Tool
By Christine Griffin, Washington H&V
[ Download Form ]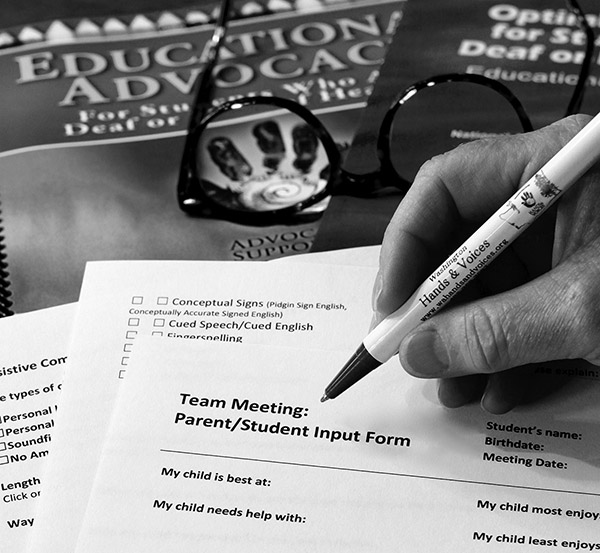 The summer before our daughter's second year in attending a Developmental Disability preschool I spent reading and researching all I could to ready myself for what I knew would be a battle to change her school placement.
A year earlier, we had successfully changed our son's school placement from our neighborhood mainstream school to an out-of-district Deaf/Hard of hearing (D/HH) program. We also wanted our daughter to attend this school, but because these are called Individual Education Programs, (IEP's) key word individual, we had to make our case to the school district again, this time based on our daughter's unique needs.
Though it would be years before a Hands & Voices Chapter was established in our state, during the ten months we attended early intervention services, I had the good luck to meet all sorts of professionals specializing in deaf education, other families, and many deaf adults. These people would provide me with helpful information even after transitioning from early intervention.
From what I gleaned, I knew our daughter had certain rights, but I was still anxious from my lack of know-how and advocacy skills. I wondered how I would pull something like this off for our daughter. Then I remembered a form I was given at a conference I attended. It was called the Parent Input Form. In addition to this form, one of the providers working with us while in early intervention handed me a copied-off portion of the NASDSE Deaf and Hard of Hearing Students Educational Service Guidelines. In this section, it documented the many considerations schools needed to address for students who are deaf or hard of hearing. (NASDSE stands for the National Association of State Directors of Special Education.)
Kind of like the winning combination of peanut butter and chocolate to form a Reese's Peanut Butter Cup, I used the Parent Input Form with the D/HH Educational Guidelines to make my case of all the elements our daughter needed as a hard of hearing student; language used by the family and in the home, having access to peers who used sign language, and educators who knew the elements of educating a hard of hearing student that used sign language, etc. It was a long list starting with "a" and ending with "j." During the meeting, I went down the list and our reasoning for each point. Afterwards I knew this form had power because not only had we succeeded in getting our daughter's placement changed, but the advocate who accompanied us asked me for a copy of the Parent Input Form after our meeting to use with other families.
The Parent Input Form was eventually stored on our computer. In preparation for our kids' IEP meeting each year, I reviewed the previous year's Parent Input Form and changed or updated areas as needed. However, there were some occasions when our concerns remained the same from one year to the next. This clearly documented a gap and resulted in me pressing the team harder for improvements and services.
The other cool thing about the form was that as our children grew, they became involved in helping me fill it out. For example, I can remember our daughter wanting me to list "snow" as something she didn't like. Later in the meeting she was able to let her team know why she didn't like snow, a first step in self-advocacy.
As I started working with families through our state's H&V Guide By Your Side program, I shared the Parent Input Form with them. It was through this process that I updated the form to add additional prompts using language from the IDEA Special Factors/Considerations for deaf or hard of hearing students. These factors were made into questions to help a family respond to them better. Its title also was adjusted to include the student and is now called the Parent/Student Input Form.
Today the Parent/Student Input Form is quite comprehensive, including basic information such as the child's likes and dislikes, a checklist of all the ways the child communicates both expressively and receptively, and six prompts that cover aspects of the IDEA's 5 Special Factors including hearing device use. It also includes links to the Expanded Core Curriculum for Students who are Deaf of Hard of Hearing and the link to the most recent edition of the 2018 NASDSE document, now called Optimizing Outcomes for Students who are Deaf or Hard of Hearing.
Lastly, once a parent completes these sections, we look back over the responses to create a list of the parent/student's concerns, questions, and suggestions that will allow the team to discuss those items together.
Because it is very comprehensive and covers a lot of information, each family I introduce the form to reacts to it differently. Some families run with it; other families may need the content broken up into digestible sections, and sometimes I fill it in based on the discussion the family has with me so they can look at it and decide if I missed anything or if they agree. 
The Parent/Student Input Form process is not fullproof and, in some cases, it's only a first step. However, the form offers a systematic way for families to learn what their rights are, and what their child's rights are when it comes to IDEA Special Considerations and access. I see families becoming eager to share what they have noted on the form and more engaged in the IEP development process. In these ways, families (and their children) can become more knowledgeable and confident during the advocacy process.
If you are a parent and want more information about the Parent/Student Input Form, be sure to contact your state's Hands & Voices Chapter or family-based organization, or contact Christine Griffin, gbys@wahandsandvoices.org  ~