Parent Tip Sheets
Tipsheets for Parents
Below are eight different Parent Tip Sheets created for parents and caretakers of children who are deaf or hard of hearing (D/HH) to use with the support of an Early Intervention provider with experience working with children who are D/HH. Each Tip Sheet briefly describes the developmental process of infants and toddlers post-identified hearing condition for cognitive, social, emotional, language (semantics, syntax-morphology, pragmatics, phonology –auditory and visual), pre-literacy and literacy development. These Tip Sheets provide suggestions for parents and caretakers, for fun, everyday activities to enhance their baby's development in these aspects! Hang these up on your refrigerator and pick an activity or two to include in your baby's daily routine or when you are out and about exploring the world.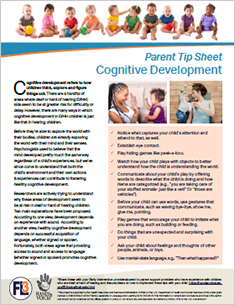 IN MANY WAYS, THE MIND IS YOUR CHILD'S FIRST PLAYGROUND! THERE ARE MANY WAYS IN WHICH COGNITIVE DEVELOPMENT IN DEAF OR HARD OF HEARING (D/HH) CHILDREN IS JUST LIKE THAT IN HEARING CHILDREN. HOWEVER, THERE ARE A HANDFUL OF AREAS WHERE D/HH KIDS SEEM TO BE AT GREATER RISK FOR DIFFICULTY OR DELAY.
YOU CAN HELP YOUR CHILD DEVELOP THE SKILLS HE OR SHE NEEDS FOR LATER READING WHEN READING STORYBOOKS, INTERACTING WITH PRINT, AND ASSOCIATING SOUNDS / FINGERSPELLING IN HIS OR HER ENVIRONMENT. BUILDING THESE SKILLS EARLY WILL HELP YOUR CHILD START SCHOOL READY TO LEARN TO READ!
Language Development - Phonology
PHONOLOGY REFERS TO THE ORGANIZATION OF SOUNDS IN LANGUAGES CONVEYING MEANING. SIGN LANGUAGES HAVE A SYSTEM EQUIVALENT TO THE SYSTEM OF SOUNDS IN SPOKEN LANGUAGES. THE BUILDING BLOCKS OF SIGN LANGUAGES SPECIFY MOVEMENT, LOCATION AND HANDSHAPE. LEARNING LANGUAGE BEGINS WITH THE BABY'S ABILITY TO INTERPRET SOUNDS/HANDSHAPES AROUND THEM.
FOR CHILDREN TO DEVELOP SOCIAL RELATIONSHIPS AND NEGOTIATE THEIR SOCIAL ENVIRONMENT, PRAGMATIC LANGUAGE SKILLS ARE NECESSARY. THESE SOCIAL ASPECTS OF LANGUAGE INCLUDE THE ABILITY TO STATE NEEDS, GIVE COMMANDS, AND EXPRESS FEELINGS. USING LANGUAGE TO INTERACT APPROPRIATELY WITH OTHERS, TO UNDERSTAND AND SHARE THEIR KNOWLEDGE AND IMAGINATION IS VITAL TO A CHILD'S LANGUAGE AND SOCIAL DEVELOPMENT.
Language Development - Semantics
SEMANTICS REFERS TO THE PART OF LANGUAGE THAT DEALS WITH VOCABULARY KNOWLEDGE, AND IS A BASIS FOR LATER LANGUAGE DEVELOPMENT! IF YOUR CHILD IS GOING TO COMMUNICATE, HE OR SHE NEEDS WORDS TO USE. YOU WANT YOUR CHILD TO KNOW MANY DIFFERENT WORDS AND TO KNOW A LOT ABOUT THOSE WORDS. WHEN A CHILD LEARNS A NEW WORD FOR THE FIRST TIME, THERE ARE MANY THINGS TO KNOW ABOUT THAT WORD!
WATCH FOR YOUR CHILD'S FIRST ATTEMPTS AT PUTTING TWO WORDS TOGETHER. THIS IS DEVELOPING SENTENCE STRUCTURE, IN OTHER WORDS, SYNTAX. MORPHOLOGY REFERS TO THE STRUCTURE AND CONSTRUCTION OF WORDS AND THE RULES THAT DETERMINE CHANGES IN WORD MEANING; IT'S KNOWING PLURAL FORMS AND CORRECT USE OF VERB TENSE.
A BABY'S EMOTIONAL DEVELOPMENT LAYS THE FOUNDATION FOR RELATIONSHIPS WITH OTHERS. THESE EARLY SKILLS INCLUDE:
HOW YOUR BABY UNDERSTANDS AND EXPRESSES EMOTIONS;
HOW YOUR BABY GROWS TO THINK ABOUT HIM OR HERSELF;
HOW YOUR BABY LEARNS TO REGULATE EMOTIONS AND INTERACT WITH YOU AND OTHERS IN HIS OR HER ENVIRONMENT.
THERE ARE MANY WAYS IN WHICH VISUAL LANGUAGE CAN BE USED TO COMMUNICATE. VISUAL ATTENTION IS IMPORTANT FOR DEAF CHILDREN IN ORDER TO ACCESS INFORMATION VISUALLY TO LEARN. IT'S ALSO IMPORTANT TO ALLOW TIME FOR A CHILD TO EXPLORE OBJECTS BEFORE PROVIDING LINGUISTIC INPUT.
These Tip Sheets were created by the Hands & Voices FL3 Scientific Language and Literacy Advisory Board works to summarize the latest evidence-based research findings, identify current resources and training opportunities for infants/toddlers/children identified as deaf or hard of hearing in cognitive, social, and emotional developmental process and developmental milestones. Contributors to the most recent resources found below are the members of the Hands & Voices FL3 Scientific Advisory Board (learn more about them here: https://www.handsandvoices.org/fl3/about-us/lang-lit-advisory.html).